After foundation in 2018, the company bda connectivity has created its own corporate culture, characterised by trust, mutual respect, transparency and cohesion. With our corporate values, we motivate employees, identify with the company and provide a standard for cooperation. Our values – framed by our logo – thus symbolize the culture lived in the company.
This is what makes us unique!
Appreciation:
We all meet at eye level, treating each other with dignity and respect. Everyone is important and valuable for the success of the company. We see it as an obligation to keep promises and agreements. This applies to our products as well as to the actions of each individual.
Fairness:
We see our customers, employees, suppliers and the public as partners. This ensures the success and the future of our company. We understand legal regulations, applicable standards, requirements from further obligations and the state of the art as minimum requirements.
Quality awareness:
Quality awareness begins in the minds. We expect  that each employee contributes his or her skills and performance in the spirit of our quality mission statement and that they are constantly developing it further. We also expect our suppliers to commit themselves to meeting our quality goals.
The will to succeed:
We act in a results-oriented manner. Only as a profitable company can we finance further growth and provide the resources we need to achieve our corporate goals. We confirm our employees in their strengths and encourage them to grow beyond themselves.
Cohesion:
We all pull together and support each other. The "bda family" is corporate culture alive.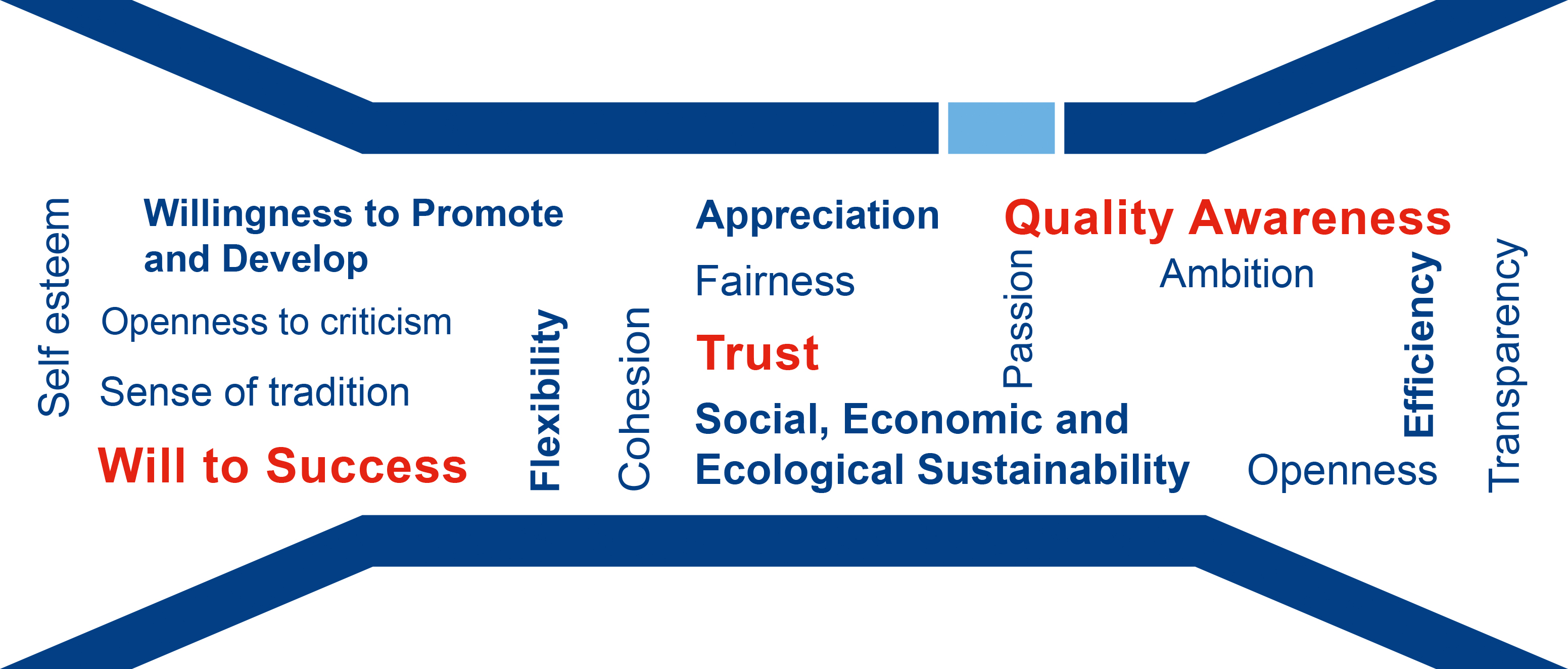 A sense of tradition:
We respect the origins of our company and the experience of our employees. We base future developments and improvements on this.
Economic, social and ecological sustainability:
We make decisions with the goal of long-term success. In doing so, we consider the interests of our employees, our partners and the public.
Openness:
We are open and honest with our employees and partners. This means in particular, to have an open ear for the concerns of our employees and to listen carefully to our customers.
Willingness to promote:
We promote the transfer of knowledge and experience and create a necessary framework for this. In this way we preserve important competencies and ensure the continued existence of the company.
Flexibility:
We regularly adapt our strategies, plans and measures to the general conditions, customer requirements, markets and competition. In this way, we aim to take advantage of opportunities that arise and limit risks.